Guantanamo Meets Humane Standards, Report Finds
Submitted by: admin

02 / 25 / 2009
---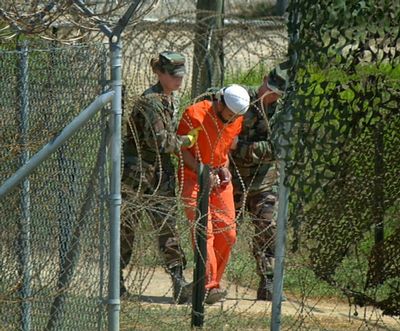 The Pentagon concluded in a report that the conditions of confinement at the Guantanamo Bay detention facility in Cuba meet the standards set forth in Common Article 3 of the Geneva Conventions, a top naval officer.
While the conditions do meet he standards, the report offers five major areas in which the detention center needs to improve in order to "go beyond a minimalist approach to compliance."
The review was requested in an executive order handed down from President Obama in the first days of his administration.
Vice Admiral Patrick M. Walsh presented the report's findings to the Pentagon press after a 13-day investigation that included interviews with more than 100 guards, leadership staff, interrogators, and a dozen captives held at the detention facility.  
Recommendations include the need for increased socialization among the detainees, improved access to health care services, and the practice of video archiving of all interrogations.
The goal of the report, he said, was not to look at past instances of alleged abuse but rather to look at what the standards are now.
Video archiving is an issue that has come up for the Pentagon in the past, and many have argued certain videos were destroyed because they held evidence of torture.
Walsh said that not all videos were kept on file due to "technical limitations," but the report recommends all interrogations be recorded and archived going forward.
"It's very important to be able to put everyone on notice in terms of accountability... and the root issue, as far as we're concerned, is being able to have undeniable proof as to the events that took place," Walsh said.
Social interaction was the top on the list of necessary improvements.  
"The ability to interact, person to person, is critically important for folks to be able to socialize and to be able to be intellectually stimulated," Walsh said. But different detainees are being held for different reasons, and mingling them could pose a risk.
Camp 7, which Walsh described as the equivalent of super-maximum security prison that holds high profile detainees such as the alleged 9/11 co-conspirators, will not allow its members to interact with other camps. They will be permitted to have more access to recreational activities -- giving them more than the 2 to 4 hours they get now.  
Detainees in lower security areas like Camp 4, where one third of the detainees are held, have access to recreation 20 hours a day and are often held in communal spaces with a television.
Among the low security prisoners are 17 Chinese Uighurs whose pending case for release is causing  "increased tension and anxiety within the detainee population," according to the report. The review calls for their case to be solved as soon as possible in order to reduce those tensions.  
The fifth major recommendation suggests as many cases as possible should be decided in order to suppress the uncertainly and anxiety that detainees are experiencing. "Understandably, these detainees continue to express their extreme frustration with their continued detention ... and it complicates conditions of detention."
"So what we're doing here in this report is we're saying there's another dimension to this that we have to look at, and that's mental welfare, and we think that's critically important," Walsh said.
He said 8 percent of the detainees suffer from a mental illness that requires medication, and although that's less than that of the general U.S. population, its still cause for concern. Maintaining a good mental health record among the population is a major part of achieving the standards of humane treatment set forth in the Geneva Conventions.
(www.foxnews.com)
---
Related News
---