Canadian Lacambe Wins Two Legs in Vuelta a Cuba
Submitted by: admin

02 / 20 / 2009
---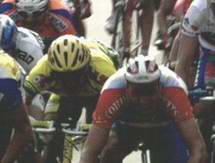 Keuen Lacambe, 23, member of the Energy Planet team, won the 60-kilometer circuit in Cienfuegos city with 1:29.09 hour time, trailed by Cubans Yunier Alonso and Jan Carlos Arias. Following the leaders Cubans Adriel Jiménez and Alien García along Canadian Albert Gilbert crossed the finish line.
In the afternoon, Lacambe, made a 1:46.13 time after racing for 65 kilometers from Cienfuegos to Santa Clara city. This time Noslen Funes and Yunier Alonso, in that order, trailed the Canadian, who had won the first stage of the Vuelta a Cuba tour.
Agustín Martínez, from Villa Clara, and Funes, won the intermediate sprints, in Cruces (29) and Ranchuelo (44), respectively.
Today, the Vuelta a Cuba event will have its 10th stage from central Villa Clara province to Cardenas city in Matanzas, a 185-kilometer leg with intermediate sprints in Santo Domingo (37), Colón (112) and Jovellanos (144).
(www.cubanews.ain.cu)    
---
Related News
---