Passion for literature: 18th International Book Fair 'Cuba 2009'
Submitted by: admin

02 / 10 / 2009
---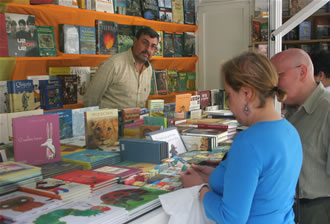 No question, Cuba has a vast editorial experience in Ibero-America, "evidence of which are the growing numbers of eager readers, whom we work for," said Mirta González, President of the Cuban Book Chamber at a press conference in Havana.
Cuba's Book Institute President Iroel Sánchez, for his part, said that most of the books released nowadays by the Cuban publishing houses, over 90 percent of them, are new titles.
This year's book fair, the prestige of which has long spread beyond Cuban borders, will be dedicated to Cuban poetess and essayist Fina García Marruz and to essayist and historian Jorge Ibarra, whose vast literary work will feature prominently at the book fiesta. It will also celebrate the 50th anniversary of the Havana-based Casa de las Américas cultural institution and will have Chile as the country of honor.
The Havana stage of the fair will take place at the San Carlos de la Cabaña Fortress, about 7 000 square-kilometers long, while the Tres Reyes del Morro Castle will be turned into a huge shop, where fairgoers will find traditional craftworks from several other participating countries.
On hand at the press conference were Casa de las Américas President Roberto Fernández Retamar, Historian Jorge Ibarra, and Chile's Ambassador to Havana Gabriel Gaspar. It was announced that 43 nations will be represented at the book fair, including 165 Cuban exhibitors and 183 from other nations, as well as 266 publishing houses.
The organizing committee also informed that the list of 593 foreign guests includes renowned Chilean personalities like National Literature Prize laureates José Miguel Varas and Raúl Zurita, National Journalism Prize laureate Faride Zerán and National Social Science Prize laureate Humberto Giannini. Other Chilean guests include writers Poli Délano and Carmen Berenguer, along with Senegalese author Boucabar Barry, Spanish Alfredo Grimaldos, Norwegian Jostein Gaarder, Argentinean Adolfo Columbres, Brazilian Frei Betto, Venezuelan Luis Britto and Mexican Paco Ignacio Taibo II.
Official delegations at the book fair will include the Ministers of Culture from Chile, Paulina Urrutia; Honduras, Rodolfo Pastor; Ecuador, Ramiro Noriega, and the Minister of Education from Ecuador, Raúl Vallejo.
"Prior to the fair's official opening on Feb. 12, the book fiesta already started at the 46 bookstores here in Havana on Thursday, Feb. 5, offering readers more than 200 new titles," said Fernando León Jacomino, Deputy President of the Book Institute.
Edel Morales, Director of the Dulce María Loynaz Cultural Center, pointed to the numerous activities on the event's program, including roundtable discussions, book presentations and readings, among others.
Casa de las Américas is organizing roundtable discussions on Latin American fiction and literature, and on the use of the Internet to disseminate all kinds of information, and will also open an exhibit. This year's winners of the Casa de las Américas Literary Prize will be announced, coinciding for the first time ever with the book fair. The Havana-based cultural institution will also present titles from its collection and the latest issue of the magazine 'Casa', and Fernández Retamar will hold talks with readers.
Titles by Chilean authors will be presented every day at the José Antonio Portuondo conference room. The program also includes an international seminar organized by CLACSO, the Carolina Foundation and the Cuban government on the current world crises and the role of the United Nations.
The Pabellón Cuba cultural complex, located on 23rd Avenue, will be turned into a bookstore, and as of Feb. 10, fair-related activities will be held also at the traditional agricultural and livestock fair of Rancho Boyeros.
Children will have their already traditional open-air spaces at the San Carlos de la Cabaña Fortress with activities every day and on Saturday and Sundays, children's activities are also planned at the amphitheatre in Old Havana and at the Pabellón Cuba cultural complex.
(Cubarte)
---
Related News
---