Pacho Alonso Cultural Center to be created in Cuba
Submitted by: admin

02 / 08 / 2009
---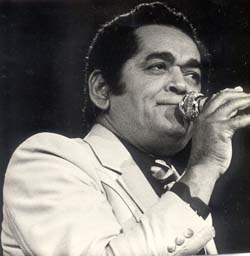 In a dialogue with the press, Pachito Alonso explained that the Center will have a recording studio and a school for autistic children, as well as another space for the formation of young people with vocation for dancing.
It will also be the seat of the Yoldance Company, directed by Yolena Alonso, which is to become this year 10 years of being founded and they will celebrate it next February in the Mella Theater from Havana , with a program that will include fragments from the show Viva Cuba , premiered in Havana in 2005.
Afterwards they will cover with it schools, theatres, community, prisons and areas of the country affected by the three hurricanes from the end of 2008.
According to its director, Viva Cuba is the most demanded artistic proposal in its repertoire in international stages, where they have been applauded at the Deutsches Theater and the Munich Philharmonic, the Schiller Theater, from Berlin and the International Folk Art Festival from the People´s Republic of China .
Yet another successful place was the Water World Expo in Zaragoza, Spain. This year they will go back to this country thanks to the demands of several business people. Founded on January 15, 1999, Yoldance is a contemporary dance group and show producer, made up by dancers graduated from the national art schools, with a style that mixes together elements from Cuban folklore, contemporary dance and its modern aspects.
Being descendants of Pacho Alonso, his children are his legacy: one of them, from his orchestra Pachito Alonso y sus Kini Kini; the other one, as a choreographer, the keeper of an open aesthetics.
Born in Santiago de Cuba on August 22, 1928, Pacho Alonso, died in the peak of his succes, when he had just become 54 years old.
He was called el Rey del pilón , according to the rythm he created together with his fellowman Enrique Bonne, who became a sort of personal call. He is also the father of some others such as the Sinalé and the Upa upa .
According to the music researcher Helio Orovio, his way of interpreting the bolero and the son constituted his main contributions to the music heritage of the country. This was also favored by his splendid image of the Cuban mulato, his charisma and his scenic projection.
(Cubarte)
---
Related News
---