Cubans get Spanish passports to their dreams
Submitted by: admin

02 / 08 / 2009
---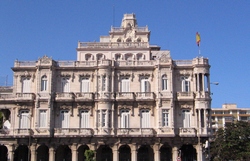 Diaz, a 38-year-old cardiologist, will to travel to Spain on Sunday, spending a few days in Madrid and then Valencia, where he even has a job offer.
Diaz got his passport on Thursday under the new Law of Historical Memory, which allows the children and grandchildren of Spaniards who fled the country during the Spanish Civil War and the beginning of the Franco dictatorship to apply for citizenship.
'This is a great moment for Cuba and for Spain,' said Pablo Barrios, the Spanish consul in Havana, as he handed over the document. 'And for me!' Diaz added, exultant.
Last December, Diaz was the first Cuban to formally request Spanish citizenship. His grandfather was from the Canary Islands and came to Cuba in 1916. 'He never returned to Spain,' Diaz said.
More than a month-and-a-half after the legislation, popularly known as the 'grandchildren's law,' went into force, the Spanish consulate in Cuba has received more than 25,000 requests. So far, 350 have been approved.
The consulate estimates it will get 100,000 requests per year, over the next two years, and that the number of 'new Spaniards' will range between 50,000 and 75,000.
Reinaldo Puertas, 58, an evangelical Christian minister waited patiently in line on an unusually cold day in Havana. His face lit up when he saw a fellow Cuban walking out with a passport in hand, a document that Puertas also longed for. 'Already! Yes? Here? Great!' he exclaimed.
Puertas said that when he first found out about the 'opportunity' to seek Spanish citizenship, he knew immediately what he wanted to do.
Since the law was passed, anyone with a Spanish accent in Havana has faced a barrage of questions from curious Cubans wanting to find out more 'about that thing with the passports.'
'Everyone is going crazy talking about Spanish passports,' said Barbara, as she set the table at the restaurant where she works.
While she didn't intend to leave Cuba for now, she said that many Cubans wanted a Spanish passport 'not to go to Spain, but to the United States.'
Or, they simply wanted the security of knowing that whenever they wanted to leave they could do so without much trouble. This is why the law is particularly popular among Cubans, even though descendants from exiles who went to any country may apply. Currently, Cubans still require an official travel permit to leave the country, even as tourists, and the document is expensive.
That is the main motivation for Yasiel, 28, who travelled to Havana from his native Cienfuegos in central Cuba to file the documents required for him and his two brothers to request Spanish passports.
Yasiel said he had no immediate plans to leave the island, but wanted Spanish citizenship for 'the chance to visit some day' his grandfather's native Canary Islands.
For Carmen, the document serves a more practical purpose. With one son living in the United States and a daughter who is also planning to leave, the new passport would allow her to visit them easily.
On Sunday, Norberto Luis Diaz will start living his dream. 'It is a dream come true that starts now, it is the return of a dream,' he said.
(www.monstersandcritics.com)
---
Related News
---