Chess: Cuban Domínguez Back on Top in Ámsterdam
Submitted by: admin

01 / 31 / 2009
---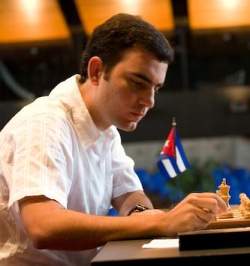 Aronian, unbeaten leader in the tournament until Friday, lost to Dominguez in 36 moves of a Ruy Lopez opening. The victory of the Cuban GM made him rise to the top, with 6.5 points, together with Aronian and another two players, Serguei Movsesian (Slovakia) and Teimour Radjabov (Azerbaidzhan).
Movsesian beat Loek Van Wely (Holland) and Radjabov beat Chinese Yue Wang, keeping their top positions.
US Grand Master Gata Kamsky was the other winner of the day, beating Ukrainian Serguei Karjakin, in 41 moves of a Queen Pawn start.
After Aronian, Dominguez, Radjabov and Movsesian, there are Norwegian Magnus Carlsen and Karjakin (6 points), and then, Kamsky and Dutch Jan Smeets (5.5 points).
Dominguez will match Ukrainian Vassily Ivanchuk in the next round, to match Karjakin in the last one, but Karjakin will play with the white pieces.
(PL)
---
Related News
---