Cuban filmmaker Tabío's New Film Highly Acclaimed by Moviegoers
Submitted by: admin

01 / 28 / 2009
---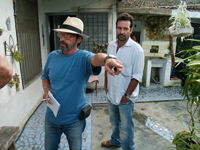 Not even the rain associated with the unusually cold winter season here in Cuba has prevented moviegoers from forming long lines outside the theaters –- a common scene since the film's premiere on January 15th.
The massive influx of people to see Tabío's latest film is actually not a surprise, given that the screening of 'El cuerno de la abundancia' at the Havana film festival attracted avalanches of people, now motivated by the prizes it obtained at the competition.
"The film 'El cuerno de la abundancia' combines a true story and fiction," said Tabío -- explaining that it deals with a supposed inheritance deposited centuries ago in foreign banks in favor of the Castiñeira family that lives in the imaginary town of Yaragüey.
The news generated indignation and confusion not just among those by the surname in all its different orthographic variants, but an entire population that goes into debt, immersed in absurd situations, amid which the lowest human sentiments emerge.
In an interview granted a few months ago to the newspaper Juventud Rebelde, Tabío explained that in the 1990s, when Cuba suffered a serious economic crisis, rumors spread about fanciful inheritances deposited in London or New York banks.
He referred to the case of a Cuban family in particular –the Manso-Contreras family — whose Kafkaesque story borders on the implausible. The script by Arturo Arango is based primarily on this story.
Co-produced by the Spanish company Tornasol Films, with the support of IBERMEDIA, the film features such renowned Cuban actors and actresses as Jorge Perugorría, Mirta Ibarra, Enrique Molina and Laura de la Uz, as well as young and talented artist Ana María Bu, who is making her public debut with 'El cuerno de la abundancia'.
At the festival, ´El cuerno de la abundancia' had very good reviews, though some critics considered it very much like Tabío's previous comedy film 'Lista de espera', thus somehow repetitive.
However, others consider it a superbly made film, which features an excellent cast and strongly criticizes people's overvaluation of material possessions over moral values.
(Cubarte)
---
Related News
---