The first library in Russian language was opened in Cuba
Submitted by: admin

01 / 25 / 2009
---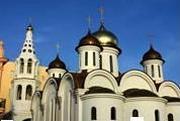 The Russian embassy in Cuba gave 350 books to the library, among them novels, handbooks and dictionaries that will be of great use to everybody who is learning Russian language or already knows it and is interested in Russian history and literature.
Cuban authorities, Russian diplomats, Cuban letter men and members of the coordinating council of the Russian community in Cuba took part in the opening ceremony.
Father Vladimir, higher of the Cathedral, explained that the basilica will teach Russian language and history of the Orthodox Church, and, therefore, they will need books and dictionaries.
- We are already teaching those who work in the Catedral or sing in the choir, but later on we will invite everybody who wants it-, said Vladimir to the correspondent of RIA Novosti.
Last week, in the Cathedral it was opened a concert hall and was presented a Christmas program with performances of the Church choir and of the Cuban musicians and artists. Caridad Diego, chief of the office of religious business of the Central Committee of the Cuban Communist Party, as well as Russian and foreign diplomats took part in the event.
(Novosti)
---
Related News
---