Cuban artists and intellectuals call for a preservation of the patrimony
Submitted by: admin

01 / 23 / 2009
---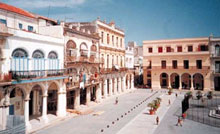 The avant-garde of the Cuban intellectuals debated from the complexities of the problems that affect the patrimony up to the need to have an educational and communicational agenda that inculcate in the population the knowledge and active participation to preserve the patrimony and environmental values.
It was clear, during the analysis that revert now the deterioration of some of the main urban areas, specially in the capital, demands substantial material resources, the country does not has.
The construction situation in the island was qualified as tense, due to the devastating effects of last year hurricanes and the consequences of a global economic crisis, although it was discussed to organize the action into hierarchy to give solution to other type of problems.
Among them is the violation of urban bylaws, lack of integrality in some investment process, recovery of the professional authority of the architect and promotion of a construction culture.
It is also the revaluation of the architectonic design, the qualification of the public spaces and the search of solutions that point at a sustainable development from the implication of the communities.
Eusebio Leal, Historian of Havana City explained how has been possible, not only with enormous material efforts, but also spiritual ones, to rescue and revitalize important areas of this city, as well as of Cienfuegos, Santiago, Camagüey and Trinidad, among other locations.
We must preach, explain, but above everything else act, indicated Leal in reference to the participation compromise of the intellectuals and artists with the preservation and development of the architectonic and urban values that must characterize this nation.
The National Council revised also, the work of the organization, in the last few months, specially the consolidation of a collective working stile and the vocation for social services of its members.
(Cubarte)
---
Related News
---