In Habana: Casa de las Américas, novel fiftieth anniversary
Submitted by: admin

01 / 21 / 2009
---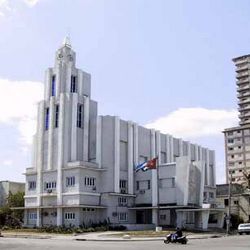 Jorge Fornet, director of the Literary Study Center of the Casa announced that on this fiftieth edition, from next February 2nd to 11th, there will be added the Extraordinary Award, of research about Latin people in the United States, as well as the beginning of a program on the topic, directed by Antonio Aja Díaz.
Aja said that this new space aims to open the field to analysis, debate, and systematization of knowledge and socialization of experiences that propitiate the many looks on the presence of Latin people in the United States, mainly from a socio-cultural perspective.
This theme does not ignore that we are talking mainly about a social, economical, demographic and political phenomenon that generates profound studies and a huge bibliography, based on the fact that close to fourteen percent of the US population has a Latin origin and is present in every field of that society.
Casa, which in this occasion, as an exception, moved the date of its award for February so that it would coincide with the XVIII International Book Festival Cuba 2009, will dedicate this year a special tribute to the famous Latin American and Caribbean cultural institution.
According to the celebrations, starting today Casa de las Américas has a special image, since in the afternoon it will inaugurate its Kinetic Year, dedicated to one of the most important artistic movements of the mid-twentieth century, which had among its creators Latin Americans such as Julio Le Parc, Jesús Rafael Soto, Carlos Cruz-Diez and Ñandú Darié.
From the vestibule, stairs and the second floor, walls of the institution took shaking colors such as indigo, red or orange, in order to serve as a base for outstanding kinetic pieces that call for chromatics, lights and shades, abstractions or volume contrasts in order to privilege the real or imaginary movement of the pieces.
With renewed airs and a youth impetuous, the oldest and most stable literary award from Our America has reached its half century with such a drive that asserts a long continuity.
(Cubarte)
---
Related News
---