The second Portuguese tour of the Cuban children theater group La Colmenita to end
Submitted by: admin

01 / 21 / 2009
---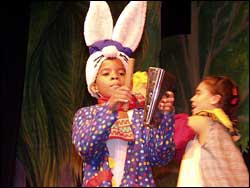 Around ten thousand people assisted to the different performances of the group directed by Carlos Alberto Cremata and which were part of the festivities for the fiftieth anniversary of the Cuban Revolution.
During their second tour around Portuguese stages, the group received good critics from the specialized critique, especially in the newspapers Diario de Noticias, Sábado and Avante as well as in several television channels with reports on the company and interviews with its members.
The tour covered the cities of Lisbon, Almada, Espinho, Leiría, Moita, Vendas Novas, Alandroal, Marinha Grande and Santarem and offered a repertoire that included pieces such as La cenicienta según los Beatles (Cinderella according to the Beatles) and La Cucarachita Martina (The small cockroach Martina), among others.
Precisely a year ago, La Colmenita made another visit to Portugal with performances in this capital, Alcochete, Santiago do Cacem. Aljustrel, Vendas Novas, Alandroal, Moita, Villareal de San Antonio and Guimaraes.
Before this second trip to Portuguese land, the group went around the Spanish region of Andalusia with performances in the cities of Seville, Puerto Real, Casariche, Badolatosa, Morón de la Frontera, Arahal, Huelma and Mairena del Alcor.
The Cuban children's company holds the condition of Good Will Ambassador from the United Nations Children Fund (UNICEF).
(Cubarte)
---
Related News
---