ANGIODIN Pletismograph, effective in the precocious diagnose for circulatory affections
Submitted by: admin

01 / 20 / 2009
---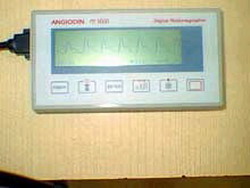 A significant contribution to the finding out of the precocious diagnose of circulatory peripheral affections, it eased the general application in all Cuban provinces last year, the pletismograph ANGIODIN PD 300 has been produced by the Medical Biophysical Center located at Santiago de Cuba city.
Mounted in 35 Cuban health facilities and with more than 120 equipment exported, the system is outstanding because of its non invasive nature and the effectiveness for the diagnose of peripheral arterial insufficiency, micro-angiopathies, determination of optimum levels of amputation, arterial vase spasm, arrhythmia, syndromes of thoracic output and Raynaud , electromechanical disorders and erectly sexual dysfunction.
Dr. in Sciences, Manuel Lores Guevara, Director of the Research Institute adjoined to the Eastern  University, highlighted the kit was developed with the close collaboration with Antilogy specialists, ANGIODIN is also the sole equipment in the market able to carry out most of the  hemodynamic tests being carried out made in the labs.
In this sense, the equipment is widely applied in the fulfillment of semi automatic tests of simple digital pletismography, reactive hyperemia, leg/arm pressure index, alternative compressures, hyperabduction, hypersensibility to coldness, pressure measure for cutaneous perfusion and continuous monitoring of pulse and cardiac frequency.
According to the demands of the Cuban science, in the recent concluded year, Medical Biophysical also developed the system for the storing and transmission of multimode medical images, IMAGIS in its line of research projects closing the application and commercialization cycle in and out the country.
According to Dr. Lores Guevara, using a software, the system eases processing, handling, storing and transmission of multimode medical images, coming from diagnose sources such as computerized axial tomography, magnetic resonance, ultrasound, angiography, radiography and nuclear medicine.
Due to its high contribution for a better diagnose and teaching, there are 72 IMAGIS stations on the island, being relevant the experience from Santiago de Cuba where all hospitals are interconnected through the network. Besides, other 18 stations are located in Venezuela showing optimum results.
Such achievements from the young work team formed by 92 workers also creator of other projects applied in medical and biological sciences,  was awarded as a National Vanguard Team by Fidel since its opening in 1993, these scientists have just been acknowledged and given the Flag for the 50 Anniversary of the Triumph of the Revolution by the National Labor Federation.
Source: Trabajadores
---
Related News
---