In Cuba: International Encounter of Caribbean Journals
Submitted by: admin

01 / 19 / 2009
---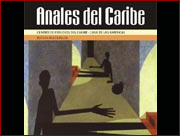 The aim of the colloquium is to exchange experiences on our journals, to recognize those that have been emblematic and its founders, to bring together that huge editorial world and to design joined cultural projects, possible networks and other means of exchange, from an interdisciplinary perspective.
Recognizing the importance of this "project, ever invaluable, that is a magazine," this encounter aims to widen through panels, presentations, conferences, debates and expositions, the knowledge on the Caribbean cultural universe.
The event will be dedicated to think and re-think about the past and the present of our Caribbean reality through our journals, because they are travelers that have no border, capable of building relationships and to establish simultaneity of spaces and times. Anales del Caribe is calling for us to know better the journals that preserve and spread the historical and contemporary reality of the Caribbean.
Those who are interested might assist as speakers or as participants.
The speakers should send the title of their dissertation –fifteen minutes long- accompanied by an abstract of two hundred words and a Curriculum Vita that is a hundred words long, al of it in Arial 12, in English, French or Spanish. Proposals will be received through e-mail or air mail until July 1, 2009 and the confirmation of their acceptance should come before July 31, 2009. Speakers should receive a supporting document.
Those who are interested in assisting as participants, without presenting dissertations, should confirm their assistance before September 1, 2009. Participants should receive a supporting document.
The colloquium will include a service of simultaneous translation (Spanish, English and French). The admission fee for foreign speakers and participants will be 50.00 CUC (60 USD) and it should be paid in cash, in person, in the seat of the Casa de las Américas at the time of the inscription.
In order to facilitate your transport and stay in Cuba we suggest you get in contact with your travel agency or get in contact with our institution.
(La Ventana)
---
Related News
---