In Cuba: Electronic access to documents of Hemingway
Submitted by: admin

01 / 15 / 2009
---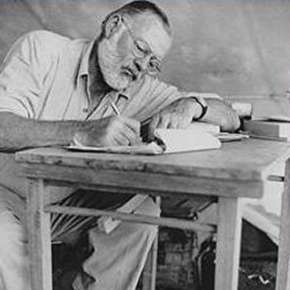 The archive includes letters, photos and manuscripts, including an unpublished epilogue for one of Hemingway's novels, For whom the bells toll. The articles from the Literature Nobel Prize remained for decades in a basement of the house in the outskirts of Havana that was brought by the writer in 1940 and which he christened with the name of Finca Vigía.
The documents were scanned so than scholars and experts might look into them, informed the director of the Ernest Hemingway Museum, Ada Rosa Alfonso Rosales.
She added that the articles "shed light into Hemingway's Cuban period, very important and much unknown for his biographers."
In Finca Vigía
In order to have access to it, scholars should make a formal request to the Cuban National Council of Cultural Heritage.
For the time being, historians should go to Finca Vigia in order to see the archives.
Nevertheless, after this month the documents should also be available in the Hemingway Collection of the John F. Kennedy presidential library in Boston, United States.
Alfonso Rosales, pointed out that event though the material is not available yet through Internet, it is possible that it might be in the future.
Two years ago, the Cuban government had decided to send copies of more than 20.000 pages of Hemingway material to the Congress library in Washington, United States.
According to the BBC reporter Emilio San Pedro, this decision is part of a cooperation agreement between Cuban and American cultural institutions on the restoration of the work and belongings of the Literature Nobel Prize.
Among the documents that were sent to the United States are copies of letters written by Hemingway with his reflections on the effects of the Spanish Civil War and the Second World War.
(BBC Mundo)
---
Related News
---