In Habana: A celebration for the New Lunar Year
Submitted by: admin

01 / 11 / 2009
---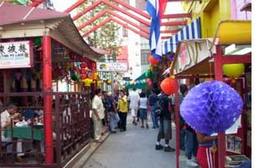 On this occasion, in the homes, commercial businesses and societies there will be made activities that are to start fifteen days prior to the festivity and are to last for fifteen days more after the arrival of the New Year.
The Casa de Artes y Tradiciones Chinas (House of Chinese Arts and Traditions) (Salud 313) is offering this month several activities dedicated to the festivity. The exhibition Encuentro con las raíces (Encounter with the roots), with the collaboration of the Municipal Museum of Centro Habana, was inaugurated January 9th.
 The gathering Herencia y presencia (Inheritance and Presence) will deal with the topic Ceremony of the New Lunar Year on a Cantonese village, on January 15, at the very same time. Meanwhile, on the 21st, the researcher on Chinese culture Mercedes Crespo, will give a talk on the Spring Festival during the literary tea in that institution.
The artist Alexis González Carbonell, from the visual arts group Hua Qu, from the Casa de Artes y Tradiciones Chinas, will take his exhibition Flores de Primavera (Spring Flowers) to the La Muralla Restaurant (Cuchillo street, between Zanja and San Nicolás), on January 23, at three in the afternoon.
On of the most interesting proposals will be the Spring Fair, sponsored by the Casa de Artes y Tradiciones Chinas and the Ministry for Agriculture, during January 23rd, 24th and 25th. Visitors may be able to appreciate flower arrangements, ornamental plants and other attractions in San Nicolás street.
The Casa de Artes y Tradiciones Chinas is also undertaking several workshops to rescue Chinese traditional sports, handiwork and others with the Grandparents Circle from the Lung Kong Society. Its Document Center for Chinese Culture is open from Monday to Friday, from eight thirty to five o'clock.
(www.habanaradio.cu)
---
Related News
---