The young Cuban pianist Roberto Fonseca's Temperamento has New Disc
Submitted by: admin

01 / 10 / 2009
---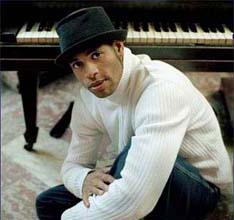 It is pure joy to observe each of his gestures, his fingers seemingly dancing above the keyboard while he freely recreates a theme overtop of a determined harmonic structure.
Fonseca, a great expressive and technical player, has just recorded his latest disc, from which he played several songs during an end of year concert at the National Museum of Fine Arts.
Together with his group Temperamento, Fonseca has left his mark on Cuban contemporary jazz and with six albums under his belt, and has solidified his career as pianist, composer, arranger and producer.
Never stagnant, Fonseca moves among diverse styles of music, mixing Latin jazz with sacred and pagan music, traditional Yoruba rhythms and melodic elements from other cultures like the Arabic Congo from Zamazu featured on his previous album.
At times he uses his voice to emphasize a particular emotional highpoint during a fierce progression as he did on El ritmo de tus hombres. But he is also known to play more measured songs with composure and serenity such as Llegó Cachaíto, a tribute to the celebrated bassist with whom he played in the Buena Vista Social Club band.
His solos reveal an exceptional sense of form and timing such as in Consumatum est. His personal experiences vibrate in his compositions at times intimate as in Velas y flores and Como en las películas, two themes on his new album that will be released in February. He also premiered a jazz version of Drume negrita, composed by Eliseo Grenet.
Joining Fonseca at the concert was guitarist Jorge Luis Chicoy along with the experienced Temperamento musicians Javier Zalba (alto/soprano/baritone sax, flute and clarinet), bassist Omar Gonzalez and percussionist Ramses Rodriguez.
Diversity, originality and synthesis form the base that upholds the musical creation of Roberto Fonseca characterized by subtleness, expressivity and orchestration.
(www.granma.co.cu)
---
Related News
---