In Cuba: Van Van Still in the Party
Submitted by: admin

01 / 05 / 2009
---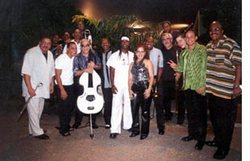 A very ingenious Cuban, the plastic arts artist Alexis Leyva Machado, Kcho, has said several times that in this island "the stadium can only be crowded only by Fidel and Los Van Van. The unquestionable issue is that "the musical engine of Cuba" has earned the preference of dancers, generation after generation and has founded a school, a style, an unmistakable sonority.   
For the musicians of Los Van Van orchestra are much more than their work, Abdel "Lele" Rasalps, one of the young voices considers it a privilege: "I always say that to all my friends, musicians of my generation, would have liked working with Van Van, that's why I say is a big privilege, I don't know if something like this happens to me again in my life".   
"For me it's a huge commitment with the Cuban people and myself", Roberto Hernandez, Roberton, and he adds: "all my musical expectations were centered in the orchestra Los Van Van.    
"From the professional point of view for me it's the top and it's a history commitment, of experience, commitment to the public, not just Cuba, but from all over the world that always waits the orchestra with a longing of something new, of another vision, of renovation. For me Los Van Van has been the greatest thing", he finished.    
Samuel Formel carries Los Van Van almost in his genes. Samuelito and the orchestra are sons of the same father and they grew together, so for him it has a very special significance to be part of Los Van Van:   
It's part of my life, because it's a project my father started in year 1969, on December 4, I was 2 years old, ever since then I have had the opportunity to see to the group in the best and worst moments and I have really belonged to Los Van Van for thirteen years as musician. For me it's such a huge pride that I don't have words to express what I feel for this wonderful orchestra.    
Van Van is also a School   
It's not only because Cuban percussion must have Changuito style forever, or because of the musical inheritance they have authenticated, or because is undeniable that they have marked a style under Juan Formel's persistent strategy of renovating without losing the essences, also for the feature, the learning that leaves in musicians.     
About what he has learned from the orchestra Lele assured: "The greatest message I have received from Los Van Van is the professionalism and perseverance, because I think is very difficult to stay so long in the preference of a country like ours that has exported so many rhythms to the world: mambo, Cha cha cha, rumba, a very fertile country in dance music".
"The first teaching - Samuel considers – comes from working until today with founders of Los Van Van and win experience, because although graduated from an art school the years and work of the street, especially in a group like this is what really opens the way to become a great musician.    
Roberton has learned how "firstly to respect dancers, to respect the public, who guides you through the path to be taken, it's the one that marks the path you must follow, mainly in Cuban music".    
 "For me it has been very valuable the confidence entrusted in us by maestro Juan Formel who allows us to innovate, to relax in each melody, each performance, we owe him everything, because it was he who began this history 40 years ago and we are only an outcome that must guarantee that this orchestra lives on and not disappoint the dancers."   
Amen. Let it be so that at Van Van's rhythm my grandsons dance in January and December when the party is still bigger, because reasons will surely grow.  
(Cubasi)
---
Related News
---