Novelties in the Cubadisco 2009 award
Submitted by: admin

01 / 05 / 2009
---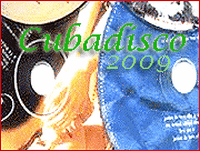 The Cubadisco International Festival, founded in 1997 and organized by the Cuban Music Institute, is the most comprehensive event in Cuban musical industry and it constitutes a preferential place to expose tha main achievements of Cuban Music, to appreciate a luxurious musical program, with special performances by Cuban artists as well as foreigners, to promote the realizations of tributes and to concede national and international Awards to important personalities of Cuban and universal culture.
Its Organizing Committee and the Committee of the 2009 Cubadisco Award, are extending their bases, allowing for the participation not only of the music or audio-visual productions edited by the houses and recording labels and Cuban as well as foreign institutions, related to the musical work, but also of those alternative musical productions, always represented by an institution related to culture.
It also adds a new category to its awards, "Award for compositors," which will be handed in to the composer of a piece of concert music included in one of the monographic productions nominated to the competition.
General Program
Honor Presidents
Adalberto Álvarez/ Cuba and Andy Montañez /Puerto Rico
Awarding Gala
May 16, 8:30 p.m. Karl Marx Theater.
On this evening the CUBADISCO Awards will be handed in to the most important album productions of the year 2008, as well as the 2009 Special Prizes and Honor Prizes.
Children's Party
May 17, 10:00 a.m.
Opening Gala
May 17, 5:00 p.m. Amadeo Roldán Auditorium Theater.
With the participation of the National Cuban Symphonic Orchestra and guests artists.
Honor Gala dedicated to Puerto Rico
May 23, 8:30 p.m. Kart Marx Theater.
Closing Gala
May 24, 5:00 p.m. Amadeo Roldán Auditorium Theater. With the participation of the national Symphonic Orchestra.
International Symposium
May 18 to 23, 9:00 a.m. to 2:00 p.m.
Organized by the Centro de Investigación y Desarrollo de la Música Cubana (Center for Research and Development of Cuban Music) (CIDMUC in Spanish) and presided over by its director Laura Vilar.
Topics
- Puerto Rico and its music
- Music and children
- Southern music
- Cuban music. Programs for development, music research and music industry.
Artistic presentations, album and book launchings, audio-visual projects and press sets to exchange with Cuban and foreign artists participating in the Festival will take place every day during the event, among other activities of great popular demand.
We will offer important tributes to musicians from Puerto Rico, the proper occasion to enjoy their traditional genres, such as bomba, plena, dance and the seis as well as important Cuban musicians who have contributed with their talent to boost our music to international levels.
Artists from Puerto Rico:
- Rafael Hernández/ Musician and singer
- Tite Curet Alonso/ Composer and journalist
- Pedro Flores/ Musician and singer
- Félix Manuel Rodríguez Capó (Bobby Capó)/ Componer and singer
Cuban artists
- Rodrigo Prats/ A hundred year anniversary of his birth
- Barbarito Diez/ A 100 years of his birth
- Benny Moré/ 90th anniversary of his birth
- Leo Brouwer/ 70 years of his birth
- Orquesta Aragón/ 70 years of its foundation
Organizing Committee
President: Ciro Benemelis Durán
Vice-president: Caridad Diez Ferrer
Contact Information: Telephone (537) 832-8298 E-mail:
[email protected]
, www.cubadisco.soycubano.com, calle 15 # 452 entre E y F, Vedado. Ciudad Habana, Cuba. CP 10400.
(Cubarte)
---
Related News
---