Cuban President Raúl Castro Emphasizes Strength of Revolution
Submitted by: admin

01 / 02 / 2009
---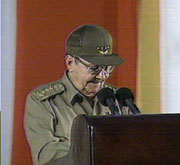 The main activity to commemorate the 50th anniversary of the Cuban Revolution began at 6 p.m. local time on New Year's Day, with a documentary presentation that highlighted important events over the past 50 years, followed by musical and dance performances, as well as messages from Cuban students and workers.
Nearly 3,000 Santiago residents, representing the Cuban people, gathered at the Carlos Manuel de Cespedes Park for Thursday evening's activity. Family members of the Cuban Five were also present for the 50th anniversary event in Santiago de Cuba, along with international guests that included Venezuelan Foreign Minister Nicolás Maduro.
Raúl Castro began his speech by saying that his first thought on this 50th anniversary is of the thousands of martyrs -- paying homage to those who died in the revolutionary struggle and those who gave their lives in defense of the victorious Revolution.
The Cuban president emphasized the strength and resistance of the Cuban people over the past half century of the revolutionary process. He said that despite efforts by various U.S. administrations to destroy the Revolution at any cost, Cuba has maintained its independence and sovereignty in the midst of very difficult conditions.
Raúl said that today, the Cuban people are stronger than ever, even though the dangers still exist -- adding that we cannot think that things will be easier in the future.
Cuban President Raúl Castro said he was expressing the feelings of many revolutionaries, on the island and thoughout the world, by saluting the Commander in Chief of the Cuban Revolution, Fidel Castro. Raúl said that while an individual does not make history, there are individuals capable of decisively influencing the course of history -- and even the Cuban Revolution's enemies would agree that Fidel is one of them.
(RHC)             
---
Related News
---