Cuban Leinier Dominguez among the World Chess Elite
Submitted by: admin

12 / 31 / 2008
---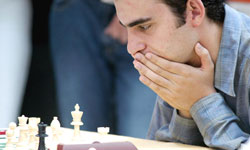 Dominguez now places 23rd in the list with an ELO rating of 2717 points, which makes him the top player in Latin America and the second in the Americas " only behind American Gata Kamsky who places 17th with 2725 units.
The outstanding chess player, who was included in the list of the Top Ten Cuban sportspeople of 2008, won the World Chess Blitz Championship held in Almaty, Kazakhstan, last November and remained undefeated during the World Chess Olympiad held also in November in Dresden, Germany.
The FIDE world ranking is led by former world champion GM Vesselin Topalov of Bulgaria with an ELO rating of 2796 points and he is followed by reigning world champion GM Viswanathan Anad (2791) of India.
The Top Ten also includes Ukrainian GM Vassily Ivanchuk (2779), Russian GM Alexander Morozevich (2771), Azerbaijan's GM Teimor Radjabov (2761), Russian GMs Dmitry Jakovenko (2760) and Vladimir Kramnik (2759), Hungarian GM Peter Leko (2751) and Slovakian Sergei Movsesian (2751).
(PL)  
---
Related News
---