Top Cuban Bands Ready for 50th Anniversary
Submitted by: admin

12 / 29 / 2008
---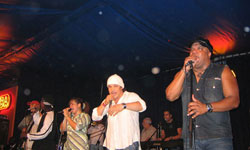 Anacaona, an all female group with a 76-year tradition in Cuba, will be playing under their musical director Georgia Aguirre at the José Martí Anti-imperialist Tribune in Havana, sharing the stage with Azúcar Negra directed by Leonel Limonta.
"We are very happy to be playing for the first time at the Tribune, a venue with lots of meaning for our people, culture and politics," Aguirre told JR.
There will be nine venues with all night lineups in Havana at the following locations: Doble Vía de Santiago de las Vegas (Boyeros), La Vereda (La Lisa), 180 y final (La Habana del Este), parque La Herradura (San Miguel del Padrón), Plaza 26 de Julio (Cotorro), Plaza Roja (10 de Octubre), Tribuna Antiimperialista José Martí (Plaza de la Revolución), 124 y 45 (Marianano), and in the parking lot of the Latinoamericano Stadium (Cerro).
La Charanga Habanera, Pupy y los que Son Son, Bamboleo, Adalberto Álvarez y su Son, la Aragón, Paulito FG y su Élite, NG la Banda, Yumurí y sus Hermanos, Habana de 1ra., Hayla, Vania, Sexto Sentido and the Santiago Alfonso Company are among the artists who will play January 1.
The president of the Cuban Institute of Music, Abel Acosta, said that despite the ravages left by multiple major hurricanes this year, the island has been holding cultural activities for the 50th anniversary since mid-December.
Acosta announced that Juan Formell, who will be playing with Los Van Van (image) at the Anti-imperialist Tribune will speak on behalf of the Cuban artists. He added that some of the top-line orchestras including La Revé, Pachito Alonso y sus Kini Kini, Sur Caribe, Arnaldo y su Talismán, and Manolito Simonet y su Trabuco will be playing in some of the regions hit hard by the hurricanes.
January 3rd is children's day with activities in the morning and afternoon.
(ACN)
---
Related News
---