Australia Says It May Accept Guantánamo Bay Detainees
Submitted by: admin

12 / 28 / 2008
---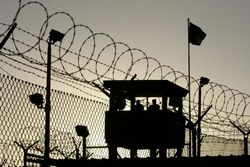 "Australia, along with a number of other countries, has been approached to consider resettling detainees from Guantánamo Bay," a spokesman for Prime Minister Kevin Rudd told the newspaper, The Weekend Australian.
"Any determination for an individual to come to Australia would be made on a case-by-case basis," the spokesman was quoted as saying. "All persons accepted to come to Australia would have to meet Australia's strict legal requirements and go through the normal and extremely rigorous assessment processes."
President-elect Barack Obama has promised to close the Guantánamo Bay detention facility after taking office next month, which has raised the question of what to do with the remaining 250 inmates who are being held without charge or trial.
Some of the prisoners are no longer considered a threat by American authorities and will be resettled.
The prisoners come from various countries, mostly in the Middle East, and some may want to return home. Others, however, face arrest in their homelands and could be subject to torture or lengthy incarceration.
European nations have reacted cautiously to the idea of resettling former Guantánamo Bay inmates, with some countries seeking a concerted European effort and others already opposing the idea.
The Netherlands has ruled out accepting any former inmates, despite broad European support for Mr. Obama's promise to shut down the military detention center.
Portugal and Germany have said in recent weeks that they might accept detainees, but France was cautious, welcoming the camp's shutdown but calling for a common European position before it would commit to participating.
Two Australians who had been held at Guantánamo have already returned home.
One, David Hicks, was held for five years before being convicted last year of providing material support for terrorism. He was sent home to Australia to serve nine months in jail before his release. The other Australian, Mamdouh Habib, was released from Guantánamo Bay without charge in 2005.
(NYTimes)
---
Related News
---