Cuban Parliamentarians Assess Economic Impact of the 2008 Hurricanes
Submitted by: admin

12 / 28 / 2008
---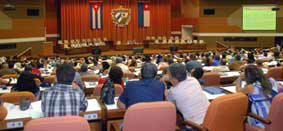 The analysis of loses to the infrastructure of the archipelago since 2001 revealed a total of 643,918 damaged houses and social facilities, many of which were hit during the recent hurricanes, reported Rodriguez on Friday before the meeting of the legislative assembly underway at Havana's Convention Center.
Although recovery in this sector is more complex, 22% of the residences that suffered damage —some 140,000 houses— have been repaired, added the Cuban official.
The minister's report highlighted the special attention given to efforts to provide food to the public, which have included measures such as dietary supplements for the more than two million people living in the 34 municipalities that were hardest hit by the hurricanes.
He reported increases in the production of food items like cereals, milk, and yogurt; and an expansion in the import of sausages, canned meat, and other products headed for the market, in addition to the recovery of the agricultural and livestock sectors.
Rodriguez underlined the quick re-establishment of electric service, which was interrupted by the hurricanes across almost the entire island; the effectiveness of the evacuation process, which involved direct efforts to protect more than four million people; the efficient provision of medical attention; and support given by artistic and international solidarity brigades.
With respect to the tourism sector, he reported that despite September and October declines, tour operators have confirmed that the number of people travelling to Cuba is greater than in 2007. A rate of 8.9 % of accumulated growth as compared to the previous year is expected.
(ACN)
---
Related News
---