A panoramic exhibition of the development of the cuban artistic ceramic
Submitted by: admin

12 / 24 / 2008
---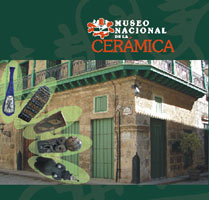 The exhibition is held in the area of transitory exhibitions of the National Museum of Cuban Contemporary Ceramic, located in Mercaderes and Amargura streets in Old Havana.
Alejandro Alonso, director of the institution, explained that the exhibition represents what will be a permanent characteristic of the museum, with pieces that generally are not exhibited to the public, but are kept in warehouses. He also indicated that the milestone of that artistic expression in the country will be due to works made by the same authors.
Works by Amelia Peláez, Mirta García Buch, José Miguel González and Juan Miguel Rodríguez de la Cruz made in the 50´s show the work of the starters of the Cuban artist ceramic in a museum speech that goes on with pieces made by Alfredo Sosabravo, Julia González, Fernando Velázquez Vigil among many others.
Small installations made by the members of the Terracota IV Group and a selection of pieces made by distinguished young authors, such as Osmany Betancourt enrich the exhibition, that considered timely to use the spaces of the hall and the inner patio galleries of the known Casa Aguilera to exhibit works of considerable format made by Sergio Raffo, Carlos Enrique Prado, Gilberto Gutiérrez and Loán Carratalá, which, according to Alejandro Alonso will be part of the definitive characteristics of the National Museum of Cuban Contemporary Ceramic.
As a novelty and following the effort of renew itself and for the museum to fulfil its didactic function, the visitors of the old house of Mercaderes and Amargura will be able to see the development of the Cuban artistic ceramic through a multimedia, which will offer tha chance to know in an interactive way the Works, the more important authors, national and international events, as well as transitory exhibitions sponsored by the museum from its creation until nowadays.
(Cubarte)
---
Related News
---