Cuban Education Minister Ena Elsa Velazquez praised the work of teachers
Submitted by: admin

12 / 23 / 2008
---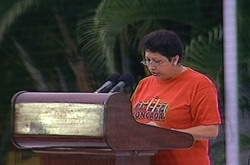 During a national ceremony to mark Teacher's Day, Velazquez highlighted efforts made by professors in recovering damaged facilities.
In the wake of passage of hurricanes Gustav and Ike, some spaces were created for students to be able to start receiving classes, and this willingness reflects the teachers' spirit of sacrifice and dedication, she stressed.
The Cuban official recalled that the great educational work of the Island began with the literacy campaign in 1961, reaching the country's remotest places.
Even under the most adverse circumstances, the country's education has constituted a true support of Cuban historical memory and dignity, she said, while recognizing the dedication of teachers who have contributed to wipe out illiteracy in other nations, and of those who have decided to return to schools after their retirement.
(ACN)
---
Related News
---