In Cuba: Ignorance Demolished
Submitted by: admin

12 / 23 / 2008
---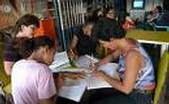 On that day, the leader of the Revolution, Fidel Castro, stated: "there is no any minute full of legitimate pride and glory like this in one, in which four and a half centuries of ignorance have been demolished."
Thousands of youths and teenagers across the country marched with a school bag and a lantern to remote mountainaous localities where the longing for home, family, patience and intelligence put them to the test to tame the resistance of those who did not see the importance of learning how to read and write.
But at the same time, the murder of the young volunteer teachers, Conrado Benitez and Manuel Ascunce by gangs financed by the CIA, was another beam of light on the way to continue the fight. On December 22, 1959 in a rally at the Jose Marti Revolution Square in Havana, Fidel Castro declared the country free of illiteracy.
That first battle was succesfully won. The Cuban literacy program Yo Sí Puedo (Yes I Can) has enabled millions of people to learn how to read and write. For example, in Latin America, Venezuela has set an example since 2005, and Bolivia has just set another one recently..
Educator's Day was instituted in Cuba on December 22, 1961, when four centuries of ignorance that subjected the Cuban people was defeated by an army of volunteer teachers that set an example for future generations in the island where education is free.
This outstanding social program it is also a constant reference of our National Hero, Jose Martí when he stated: "every man has the right to be educated, and then in payment should contribute to the education of others ..."
(SolVisión)
---
Related News
---