New Coins Presented in Tribute of 50th Anniversary of the Cuban Revolution
Submitted by: admin

12 / 20 / 2008
---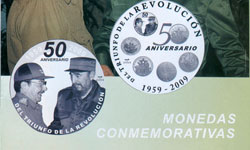 One of the coins features the profiles of Raúl and Fidel Castro and the other bears past designs issued by the Cuban mint, Casa de la Moneda, to celebrate previous anniversaries.One of the coins features the profiles of Raúl and Fidel Castro and the other bears past designs issued by the Cuban mint, Casa de la Moneda, to celebrate previous anniversaries. Photo: Zoom
Havana City Historian Eusebio Leal presented two commemorative coins for the 50th anniversary of the Cuban Revolution at a celebration on Friday at the City Museum in Old Havana.
Leal spoke about the value of the two coins that mark half a century of Cuban revolutionary history. One of the coins features the profiles of Raúl and Fidel Castro and the other bears past designs issued by the Cuban mint, Casa de la Moneda, to celebrate previous anniversaries.
Leal praised the design and quality of the coins, and recalled the series of coins presented after the 1959 triumph of the revolution.
The two coins are part of a series released into circulation minted in gold, silver, copper and nickel and highlight important moments in the Cuban Revolution with six coins dedicated to the triumph of the revolution.
(Juventud Rebelde)
---
Related News
---