Cubans to Celebrate Fifty Years of Revolution with Popular Parties
Submitted by: admin

12 / 20 / 2008
---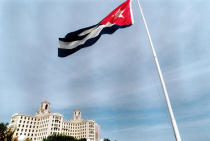 Queipo, with the National Bureau of the organization, said the program of activities to mark the date was called Todos con la Revolución (All with the Revolution). It includes several cultural and sports activities in a demonstration of the advances made in Cuba in those sectors.
The most popular salsa bands of the country will give open concerts at the Jose Marti Anti-Imperialist Tribune, located across from the US interest section in Havana, beginning December 25th. Among the groups to perform are Anacaona and Azucar Negra, while the legendary band Los Van Van, and Paulo FG will join for a concert on January 1st to close the celebrations in this plaza.
The central gala for the 50th anniversary of the revolution will take place December 21st in Havana's América Theater, and previously on the 20th several spots for cultural activities will be set up along Calle 23, one of the busiest streets in the Cuban capital,
January 3rd will be dedicated to the children with dance parades, circus and theater artists to perform in ten plazas of the Cuban capital, among other activities scheduled.
The communities that were hit by the hurricanes Gustav, Ike and Paloma will enjoy the performances of local and national artists, who will set up camps to stay through New Year.
Activities for January 1st include concerts by famous musical groups, theatre plays on the squares, humour and circus shows, arts exhibitions, books and crafts sales.
Also meetings with writers and poets, and sports and historical personalities will take place.
On January 8, children will commemorate the entrance of the rebels into the Cuban capital with a caravan, known as the Caravan of Victory, that will leave from the municipality of El Cotorro towards the former Presidential Palace located in Old Havana, where Fidel and the rebels accompanying him ended their trip from eastern Cuba after winning the war of liberation in 1959.
(ACN)
---
Related News
---