Operation Miracle: Success in Pinar del Río, Cuba
Submitted by: admin

12 / 20 / 2008
---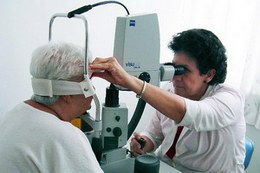 This project makes easier the access to new diagnosis and surgical treatments, which according to specialists ensure a successful evolution of the patients.
So far the reported complications are under five percent, lower than international records, while a total of 12 eye conditions are assisted in this part of the country.
The most practiced surgeries are cataracts, refractive defect, squint, retinitis pigmentosa, pterygium and glaucoma.
Operation Miracle began here in 2006 with an active inquiry in a wide range of the population prone to eye conditions.
Physicians and technicians reached the deepest sites of the territory in order to examine the villagers in their homes.
Then, seven units were fitted out to perform the surgeries in hospitals and clinics of Pinar del Río, and the Ophthalmology Center was inaugurated in early 2007 at Abel Santamaría Hospital, with the consecutive improvement of the service.
Comprised by consultations, surgical unit and an admittance ward with state-of-the-art technology, the program constitutes a symbol of the Cuban medicine, and has spread to Venezuela, Bolivia and other sister nations.
(Guerrillero.co.cu)
---
Related News
---