Bolivia Free of Illiteracy
Submitted by: admin

12 / 20 / 2008
---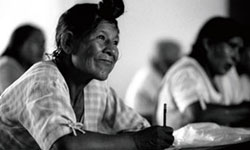 During the ceremony, which took place in the capital of the department of Beni, Morales expressed his thanks for the unconditional solidarity offered by Cuba in humanitarian effort.
"Thank you, our Cuban sisters and brothers; the Bolivian people will never forget your support," said the leader of the Movement Toward Socialism party, as he highlighted that doctors, social workers and educational counselors from Cuba have had to deal with even threats and acts of aggression as they have done their work.
"They came here unselfishly; they didn't come looking for resources. Cuba and Fidel Castro have trained themselves to offer solidarity without requesting anything in return," said Morales.
The leader also announced his commitment to extend the fight against ignorance to other countries of the region—such as Paraguay.
Minister of Education Roberto Aguilar indicated that a fund has been created with the aim of contributing to the fight to free its neighboring country of illiteracy, announced the president.
More than 820,000 citizens have learned how to read and write in Bolivia's 327 municipalities thanks to the Cuban "Me, Yes I can" audiovisual teaching method.
According to educational authorities, in the first months of 2009, Bolivians will have the opportunity to register for post-literacy programs, which will allow them to learn more about the natural sciences, language, history, the prevention of illnesses and work-related education, among other topics.
Departments that were previously declared free of illiteracy are La Paz, Cochabamba, Santa Cruz, Oruro, Pando, Tarija, Potosí and Chuquisaca.
With the addition of Beni, Bolivia now becomes the third Latin American nation free of illiteracy—following Cuba (1961) and Venezuela (2005).
The official declaration of Bolivia as a country free of illiteracy will take place on December 20, in a ceremony in the city of Cochabamba, located in the center of the Latin American nation.
(www.jrebelde.cubaweb.cu)
---
Related News
---