Cuban movie institute to launch seven new DVDs
Submitted by: admin

12 / 18 / 2008
---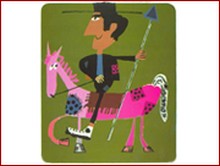 Digital productions were presented here as part of the collateral activities of the 30th New Latin American Movie Festival in Havana.
The DVD contains a big picture gallery, some of the unpublished, interviews with its creator and its documentaries El Mégano and Sexto aniversario.
Among the volumes to be sold there are also the documentary Volveré y seré millones (I will come back and I will be millions) by Jorge Fuentes, dedicated to the president of Bolivia, Evo Morales, and the movie Roble de olor by Rigoberto López with subtitles in seven languages.
This last one also includes a CD with the music creates by the composer and guitar player Sergio Vitier.
Other titles taken to that format were the blockbuster Kangamba, by Rogelio París; a selection with 25 pieces from the VII Exhibition of Young Producers and another one on Itinerant and Caribbean Cinema.
The ICAIC has already 160 volumes in DVD that contain 259 movie pieces, among them there are movies, documentaries and cartoons from different time periods.
In 2009, together with the 50th anniversary of its foundation, it hopes to launch yet ten titles more, among them the tapes La bella de la Alambra (1989), Strawberry and Chocolate (1993), La edad de la peseta (2006) and Ciudad en rojo, still to be premiered.
(Cubarte)
---
Related News
---