To begin the 40th anniversary of the Cuban Music Train
Submitted by: admin

12 / 16 / 2008
---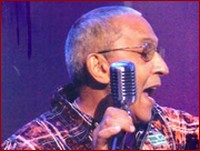 Celebrating its 39th birthday of the Los Van Van band, its director Juan Formell, pointed out in a press conference "I never thought this would last for 40 years, I would have been happy playing the bass in any popular music band."
With that modesty that has always characterised him, Formell remembered and thanked the work of all of those where part or had been part of the band as well as the contributions many of them had done in favour of national and international recognition that has maintained the band in the first places of popularity in Cuba and abroad.
The encounter with the press and other guests was made in the Press International Center and it started with the opening of a photo exhibition by the artist Iván Soca, that collects the strength projected by Los Van Van in every stage every time they come out to perform their songs for the great public, with a modern vision and great dynamism.
Afterwards there was presented a new audio-visual and album product on Los Van Van that brings together mainly images from the concert offered by this band in the Karl Marx Theater in June 2006, as the high point of the tour they made all over the country, a huge show of national musical panorama, something the bad hadn't done for twenty years.
Under the direction of producer Ian Padrón, who accompanied Los Van Van in their tour and who was in charge of recording in the concert, and with the support of EGREM and Unicornio record labels, there was made a product which also includes the recording of the concert in DVD, some video-clips from musical numbers of the band and a CD with every song interpreted in that concert. However, this is only the first product that starts the tribute to Juan Formell and Los Van Van in its 40th anniversary.
On this new album product, Guille Vilar, producer and director of musical, radio and television programs, pointed out that its quality is to be compared to any other internationally award winning product and that it doesn't need any sort of promotion or marketing campaign in order to support its national and international distribution. Making reference to the devastation caused by the hurricanes that hit the country this year and the great damages they cost specially to the roofs of hundreds of thousands of homes, Guille pointed out: "In this concert there are two main stars, Los Van Van and the public," and he added "these are the roofs of the heart that Los Van Van are handing out to the Cuban people."
Ian Padrón commented that when he was born, Los Van Van had already a high recognition within Cuban music and they all grew up and lived over the last decades following this band, a chronicler of its time that has marked different Cuban generations.
Despite the fact that he accompanied the orchestra over this whole tour, where he lived very moving moments of emotion and happened, not he not his team managed to avoid the tears when they edited the material collected by the 14 cameras in that unforgettable concert in the Karl Marx theatre. "The interaction between the band and the public is something amazing. In that concert Los Van Van managed to bring together an important number of guests, including former band members, and it is for example the last appearance of Armandito Cuervo with Los Van Van, who sadly died a month after this recording." When he talked about whether this product would bring together or not the additional information on the history of the band, he pointed out: "This is just a part of the project, for next year we will have a documentary which apart from showing the experiences of the tour, will also made a tour over the history of the project, including interesting interviews, the preparation of the musicians before they get on stage and other surprises."
Question came fast and several of them pointed towards the need of having more products such as this one. Formell himself commented on this: "I had never valued the importance of image for music. I had read about cinema, video and media in general, but I had never internalized it. We, musicians, are very worried with watching over the quality of the sound recording and we don't really value what image represents. I want to congratulate Iván Soca for the excellent photographic work he has made and Ian, his team and all of those who have worked in this project for their final result. I think such a work had never been made. I think this product might be seen today, but it will be as current in ten years time."
After the greetings, congratulations and thank you of musicians, singers and friends, there had to come some rhythms that could be true to Cuban tradition.
Juan Formell
In order to talk of Juan Formell
I present you Los Van Van,
Where their notes are
Sounding always with him.
With this faithful sound
Of trombones and violins,
And in pertinent relations
The bad Head sounds,
Like a shot, a bullet
Until the dance is through.
II
And if someone defines it
With a simple expression,
He may find the seed
With music to germinate.
But when the century is over
Their music is still under way,
Because there is no one to stop
The inspiration from the people,
Their motive, their song
The voltage measurer.*
The band is not stopping and it is already preparing a new concert in the Isle of Youth, on December 21st and 22nd, as part of the work undertaken in that region by the Martha Machado brigade, headed by the plastic artist Kcho, who was also present in the conference. Even though Formell might jokingly say that they are the ones being paid tribute to and are waiting therefore for what other people are preparing to them, we all know that they will still be the main stars of every activity done in their name.
The 40th year of those "contagious agents of what is going on" has started… get ready because it is highly contagious and we are not aware of any antidote or vaccine, because specialists have not found an answer yet to the question: "What does Los Van Van have that they are still there?"
Note: * These verses belong to the book Todo es música y razón (It is all music and reason) by Agustín Dimas López Guevara (Ciego de Ávila - 1953), Musical Producer, Artistic, Theater Director, Poet and Narrator.
(Cubarte)
---
Related News
---