Photo Exhibition on Cuban Revolution Opened in Spain
Submitted by: admin

12 / 16 / 2008
---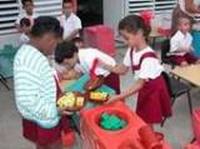 The exhibition was set up at the Centro del Imagen School of Photography of Madrid and includes pictures that show transcendental moments of the revolutionary process that began on January 1, 1959, reports Prensa Latina.
Among the photographers are Alberto Diaz Gutierrez (Korda), best known for the famous picture of Che called 'Guerrillero Heroico', Raul Corrales, Perfecto Romero, Osvaldo Salas, Liborio Noval, Ernesto Fernandez, Jose Agraz, Luis Pierce and Roberto Salas.
Pictures by Spanish photographers who have also witnessed important events of the Cuban revolution either in Cuba or Spain will be displayed as well. They include Enrique Meneses, Antonio Gabriel and Cesar Lucas.
According to the organizers of the event, the exhibition is aimed at approaching significant moments of the revolutionary process in the island and recognizing the work of the artists who recorded such moments.
Maria Eugenia Haya, director of Cuba's photographic library, says that all the events that took place in Cuba on the first years of revolution were transmitted across the country and to the rest of the world through pictures.
She said the Cuban photographic movement was the most representative artistic expression of the emerging revolution, when photographers were able to capture its core whenever it happened and wherever they were.
(Mathaba.net)
---
Related News
---