The President of the Cuban parliament, Ricardo Alarcón in Mexico to Binational Parliament Session
Submitted by: admin

12 / 09 / 2008
---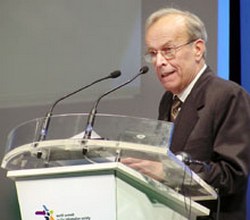 The head of the Cuban legislature arrived here from Panama, where he took part in the 24th Assembly of Latin American Parliament (PARLATINO) and met with president Martin Torrijos.
Upon his arrival to the capital air terminal, Alarcón affirmed to a group of journalists there, that relations between both parliaments have always been cordial, even when government links had a descent.
The interparliament session Cuba-Mexico is a mechanism that has been very convenient and he hopes this new encounter be also very useful, due to the fact that it will analyze bilateral relations in all their aspects.
Referring to the recent Cuban-Mexican migratory agreement, he said it is already in operation with practical results, being an important element for both countries.
He added that both nations should work jointly in the migration issue in general, more universally, as it is a very complex matter.
Alarcón pointed that the PARLATINO meeting in Panama spent most of the time to the issue, to prevent Latinos from being expelled, incarcerated and criminalized.
The head of the Cuban delegation will meet today in the Congress of the Union headquarters with Cesar Puente, head of the Board of Direction of the Chamber of Deputies and chairman of the inter-parliamentary two-day session.
According to the program of the meeting, the visitor will talk with president of the Senate, Gustavo Madero, and will also address the meeting with both chambers.
The six-point agenda to be discussed at the meeting refers to bilateral links, inter-parliament relations, health, education and culture, youth and sports, and climate change.
(PL)
---
Related News
---