Alfredo Guevara to point out young creators in movie festival
Submitted by: admin

12 / 09 / 2008
---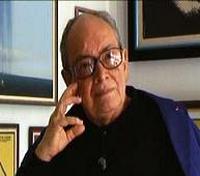 Guevara revealed that some of the most important examples of these young directors are truly impressive, which ratifies the essence of the festival as a plaza for the continuation of movie creation in Latin America and the Caribbean.
He said he has much faith and rational as well as emotional confidence in young people because they make up the replacement of those people who give value with their name the seventh art from this side of the world.
Guevara ratified that from the event there should come out the possibility of a better world, where "every work that produces or wakes sensibility in the rescue of human condition in all of its wealth and complexity, will always be a valuable contribution so that the dream of non-alignment and non-banality may come true."
He highlighted the presence of 114 pieces, made up by 20 full-length movies, 19 short movies, 22 movies in the opera prima category, 29 documentaries and 24 animation movies. The countries with the greatest numbers if movies are Brazil (23), Argentina (21), Mexico (19), Cuba (15), Chile (10) and Venezuela, Uruguay and Colombia (4 each).
There will also be competing Peru, with three pieces and Costa Rica, Guatemala, El Salvador and Puerto Rico with a movie each.
During the sessions of then30th Festival the exchange of experiences will be privileged in an attempt to show the public novel and different audio-visual options. The program includes panels and presentations on the participation of boys, girls and adolescents in society and audio-visual creation.
These activities will be complemented with the exhibition of productions made in workshops that took place in Cuba and different parts of the world. It is especially remarkable the contributions by the Camera-etc (Belgium) and Orson the Kid (Spain) Movie School for Children.
There will also take place a workshop on audio-visual production for school children by the many times awarded producer from KRO Jan-Willem Bult, while the Cuban Institute for Radio and Television will renew the Encounters Childhood and Communication, expected to take place in December 11 and 12.
The International Festival of New Latin American Cinema aims to contribute to the enrichment and reaffirmation of Latin American and Caribbean cultural identity.
(Cubarte)
---
Related News
---