Polo Montañez: An Incurable Romantic
Submitted by: admin

12 / 08 / 2008
---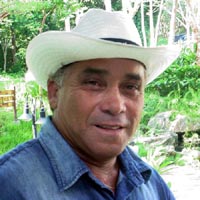 In his native town of Las Terrazas, Polo Montañez is much more than just a memory. His poetic spirit accompanies residents, ´guajiros´ like him, of the Cuban westernmost region, as everyone there has made Polo's anecdotes and songs their own.
"Everyone speaks very highly of him, proudly and affectionately," said Amaury Ramos Borrego, who is Polo's nephew.
"Everyone was very fond of him, because his growing, well-deserved fame never changed him. He never had to pretend to be anything, he remained humble and with a very natural manner. Every time he returned from an international tour, he looked for all his friends and was always willing to give a concert anywhere. On his tours of Colombia, he always sought for ways to assist street children. He used to buy them food, clothes and shoes. Every time he encountered one of them in his path, he just took him or her to the nearest store. No one does that.
The singer/song-writer who became a crowds' idol never sought fame. With a mixture of surprise and naivety, he went on stage in Europe and Latin America. Polo was awarded Gold and Platinum Records for his first CD.
"He never even dreamed of being so highly acclaimed. His mother did. She used to say: 'This boy will go a long way. He'll make something of himself'. He paid attention every time she heard him whistling any tune. He made lots of plans and realized some.
"He wanted to perform for people in the countryside, in remote regions, a big tour all around Cuba, but he couldn't make it. He lived his last years in a rush. He hardly slept at all. He said he had already wasted a lot of time that he should have used to promote his music. And then, he was eager to seize every minute. He embarked on long tours and he hardly stopped for some coffee to continue with the interviews and the recordings. It was madness."
Could you mention any little-known facet of his personality?
Yes, his fine sense of humor. He was a joker, always making people laugh. He laughed at himself. In his recitals, he usually made fun of the day he was trapped inside a broken elevator, as well as about whatever funny thing that happened to him.
The lyrics of his songs refer to great passions, love disappointments, separations, etc.
"Polo suffered a lot of love disappointments. However, he remained an incurable romantic. That is why all his songs are so popular, because they appeal to people's feelings. There were three great loves in Polo's life, to whom he dedicated most of his songs, including 'Mi mejor amiga', 'Quién será', ' Si fuera mía', ' Flor pálida' and 'Suave y divina'. The lyrics of 'Un montón de estrellas' is about desires and experiences he had.
Six years after his death in a car accident, the Polo Montañez group, led by Amaury, is a permanent homage to the 'guajiro natural' -- as Polo was fondly called by his many fans.
"It is not just about remembering him, but keeping his music alive, that unique style he had to express himself and compose his music. The violin, one of his favorite musical instruments, plays a key role in our group. We have recorded two CDs 'Cuestión de suerte' and 'Un sueño y nada más'. Some of the songs were included in Polo's repertoire. Others were written after he died, but all keep the unmistakable style of this incurable romantic."
(Guerrillero.cubaweb.cu)
---
Related News
---