Jamaican sprinter Veronica Campbell-Brownl Takes Prensa Latina Poll Lead
Submitted by: admin

12 / 07 / 2008
---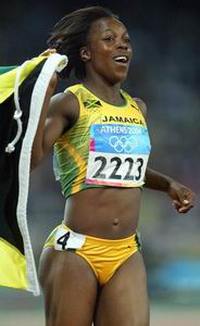 Campbell got 21 favorable votes after she was chosen by Cuban radio station Radio Guines, going three points over Mexican tae kwon do female fighter Maria del Rosario Espinosa.
Mexico also has third place among women in the sports poll with the placing of golf player Lorena Ochoa, who has got 7 points in her favour.
In the male poll, Radio Guines selected Jamaican sprinter Usain Bolt as best athlete, with 44 points in favour.
Bolt is going 3 points over Mexican tae kwon do male athlete Guillermo Perez, and 2 over Cuban hurdles runner Dayron Robles.
This is the way in which Jamaica threatens to take the number one in both classifications, which does not occur since 2001, when Cuban athletes Osleidys Menendez (female javelin) and Ivan Pedroso (male long jump) were the winners.
Radio Guines chose the Brazilian volleyball team for Best Team of the Year.
The Brazilian volleyball team is going second in the poll, after the Argentinean male soccer team, a favourite to win.
Panamanian long jumper Irving Saladino, Brazilian swimmer Cesar Cielo, Cuban male wrestler Mijain Lopez, Cuban chess player Leinier Dominguez and Dominican boxer Felix Diaz are in the list to become some of the Best 10 Athletes of the Year.
Argentinean soccer player Leonel Messi, Jamaican female sprinter Shelly-Ann Frazer and Venezuelan pro baseball player Johan Santana are also with possibilities to be included.
The results will be announced on December 18, a day after the entry deadline expires on December 17.
(PL)
---
Related News
---