Book by Cuban Cinema Figure Released
Submitted by: admin

12 / 05 / 2008
---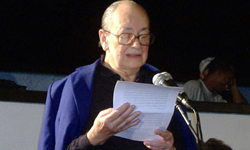 The long-awaited book Y si fuera una huella? (roughly "And if you could see it?"), by Alfredo Guevara, was launched at a presentation within the framework of the 30th Havana International New Latin American Film Festival.
Journalist Julio César Guanche referred to the book as "amazing and surprising letters about the foundation of a revolution, a cinema, a life." In the pages of the book appear correspondence between the author and Fidel Castro, Ernesto "Che" Guevara, Julio Cortázar, Alejo Carpentier, Raúl Castro, Césare Zavattini, Gabriel García Márquez, Silvio Rodríguez, Luis Buñuel and others.
Francisco Galíndez, a member of Author Editions publishing house, said being the co-editor of the work was more than a simple mechanical task, since he has learned many valuable things from Guevara, who "has written many courageous books and is an expert in Cuban cultural history."
Alfredo Guevara, a founder of the Cuban Institute of Cinematographic Arts and Industry (ICAIC) and president of the Organizing Committe of the Film Festival, noted that his book is an invitation to read. He also pointed out to readers that they could enjoy it at the upcoming International Book Fair.
Many personalities attended the presentation, including several members of the Political Bureau; Minister of Culture Abel Prieto; Ricardo Alarcón, president of the Cuban Parliament; and Juan Vela Valdes, minister of Higher Education.
(Juventud Rebelde)
---
Related News
---