Jamaican Intellectual Bestowed Honoris Causa Degree in Havana
Submitted by: admin

12 / 05 / 2008
---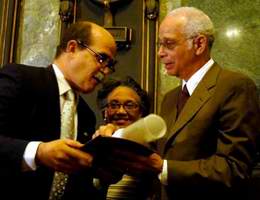 The award was presented by the Rector of the University, Ruben Zardoya, who spoke about the merits that back up the decision to grant the Honoris Causa degree to Girvan.
Norman Paul Girvan is well-known in the Caribbean for his rigorous work and his academic standard. He is a professor, researcher and lecturer at the University of the West Indies' campus of St. Augustine, in Trinidad and Tobago. He has been recognized for his studies on the Caribbean, in particular in the fields of political economics and economic development theories.
Zardoya spoke of Girvan's solidarity with just causes such as internationalist and independence struggles of Third World countries, and particularly with the Cuban Revolution. He is also an advocate of the participation of Caribbean countries in the regional projects of the Bolivarian Alternative for the Americas (ALBA).
Doctor Honoris Causa in Economic Sciences was bestowed on Jamaican intellectual Norman Paul Girvan     
For his part, Girvan thanked Cuba for the award and said that it has a great significance for him as it coincides with the 50th anniversary of the Cuban Revolution.
"Cuba is a source of inspiration for many countries around the world and it has showed how a small country can make important transformations in the fields of education, science, culture and economy in spite of more than four decades of hostility from the biggest military power that has ever existed," Girvan said.
The ceremony was attended by the VP of the Cuban Council of Ministers, Ricardo Cabrisas, and by the Jamaican Ambassador in Havana, Elinor Marguerite, among other personalities.
(ACN)
---
Related News
---