International Craft Fair FIART 2008: Expertise, Tradition and Modernity
Submitted by: admin

12 / 05 / 2008
---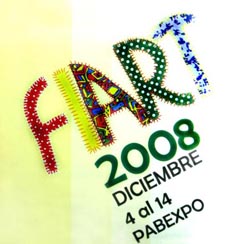 The event, sponsored by the Fondo Cubano de Bienes Culturales (BFC), the Asociación Nacional de Artesanos Artistas, ACCA (Cuban Association of Craftsmen and Artists) and the World Crafts Council in Latin America have increased the amount of national and foreign participants from all provinces and 12 countries. Among the 150 stands, worth to highlight are those from Peru, Guatemala, Argentina, Ecuador, Venezuela, Mexico, Indonesia, Dominican Republic, Puerto Rico and Spain.
FIART has an especial place to recognize the solid craft tradition of Sancti Spiritus, one of the first villages founded by the Spanish at the beginning of the 16th century. The development in basketry, ceramics, knitted works and embroideries is praiseworthy.
The most representative projects of these achievements to be present at the Fair are Agujas de Trinidad, sponsored by the United Nations Educational, Scientific and Cultural Organization (UNESCO) and Cerámicas Santander, made by a family with over a hundred years of experience in the artistic and utilitarian use of clay.
This year, the Fair will be turned into an attractive cultural option for the visitors, apart from his commercial aim.
Several fashion shows that will exhibit the designs of Proyecto Arte y Moda, especially the Compay Segundo men's collection
(www.cubanow.net)
---
Related News
---