FIART 2008 Skills, tradition and modernity in Havana
Submitted by: admin

12 / 01 / 2008
---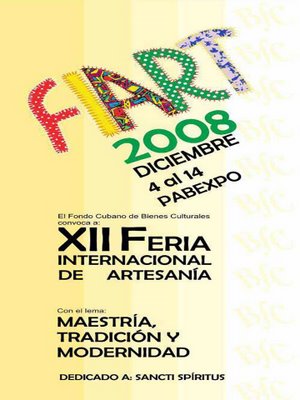 Under the slogan Maestría, tradición y modernidad (Skills, tradition and modernity), Cuban and foreign artists from another 12 countries will take part in the XII International Fair of Handcraft FIART 2008 to be held in Pabexpo west of the centre of the Cuban capital from the 4th until the 14th of December. This edition has the purpose of recognizing the technical excellence, rescue of traditions and the importance of design in the renovation of the handcraft products.
Resides the rich history of these two cities, this province, located in the central region of the country, shows a long handcraft tradition in fabric, ceramic and basketwork, among many others. The UNESCO project Agujas Trinidad is carry out in one of those cities.
The recognition to the Handcraft Master and the Award for the Works Life, that every year stimulates the trajectory of handcraft artists with many years experience in this artistic expression will be delivered in the opening day of FIART.
There will also be a collateral program, together with the commercial exhibition, with music and several fashion shows every day, in which will be presented prestigious Cuban designers.
Handcrafts from Spain, Argentina, Brazil, Guatemala, Costa Rica, Colombia, Peru, Mexico, Nicaragua, Dominican Republic, Venezuela and Ecuador will take part in this edition that is celebrating its 30 years of the Cuban Fund of Cultural Goods.
The FIART Handcraft Fair is the biggest event in this plastic art expression. Other events, also organised by the Fondo Cubano de Bienes Culturales, are FERIARTE in Trinidad city, which is an exchange between Cuban handcrafters and the Iberian American Handcraft Biennial Exhibition IBEROARTE, held every year in Holguin, eastern Cuba.
Likewise, the Fund is present at the Arte en la Rampa Fair in Havana every summer. These events boost the exchange between artists, creators and general public, while favouring the speed development between applied and decorative arts in the country.
FIART will return this December 2008, with the perfect combination between handcraft, design and identity in a great party of art and traditional culture of the people.
(www.cubasi.cu)
---
Related News
---