In Cuba: New Visitor Centre at Guanahacabibes National Park
Submitted by: admin

11 / 30 / 2008
---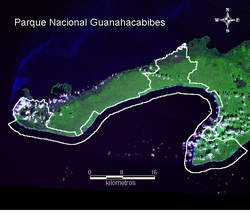 The complex, soon to be inaugurated, will exhibit some of the natural charms of the peninsula, considered the most unblemished of the Cuban archipelago, Lázaro Marques, director of the national park there, told Prensa Latina.
He commented that the facility, constructed chiefly out of wood, is divided into two main spaces: an exhibition area and conference hall, both of which are aimed at expounding on the significance of the site, designated a Biosphere Reserve.
This new centre, he added, will also contribute to the work of raising the environmental awareness of the thousand or so people who live in this remote enclave.
This, Cuba's westernmost peninsula (over 200 kilometers from Havana), is home to four of the world's seven species of marine turtles.
Hundreds of chelonians return each year to nine beaches on the peninsula, guarded by copious coral reefs.
The region, known also as El Cabo, also houses one of the last tropical jungles in the Caribbean, which remains intact in spite of the frequent onslaught of tropical organisms.
Guanahacabibes is one of Cuba's most important corridors for migratory birds and a refuge for threatened species such as the ruddy quail dove and tocororo, Cuba's national bird, Marques added.
Once frequented by corsairs and pirates, the peninsula treasures over 300 archeological sites, including the remains of shipwrecks and native settlements that have been preserved through the course of time.
(Guerrillero.co.cu)
---
Related News
---