In Cuba: Over 11,500 Students Enrol Cuban Teaching Detachment
Submitted by: admin

11 / 29 / 2008
---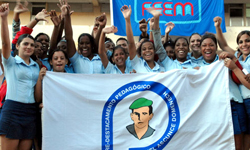 Over 11,500 Cuban students enrolled in the Manuel Ascunce Doménech Pedagogical Detachment, said Deputy of Education Rolando Forneiro Rodríguez. Prior to their official joining, the youth participated in a ceremony in tribute to the young teacher for which the detachment was named and his pupil Pedro Lantigua; this was to mark the 47th anniversary of their murder by counterrevolutionary gangs.
According to Forneiro, who is an official of the Limones Cantero community in the Cuban town of Trinidad —where Ascunce and Lantigua were murdered— the recent graduates from 16 pedagogical centers across Cuba will form the next generation of those who will continue the task of the murdered teacher. The young educator was killed while participating in the illiteracy campaign of the Cuban Revolution.
Students from 17 countries also attended this activity. They are being trained to become teachers at the Capitan Silverio Blanco Nunez Higher Pedagogical Institute, also in Sancti Spíritus Province.
In Villa Clara Province, 771 students joined the detachment on Wednesday. To welcome these students, a celebration was held at the monument that memorializes the derailment of the armored train that carried troops of the Batista dictatorship. At this ceremony, 17 founders of the first detachment were honored who are still serving as teachers.
In Havana, the Coronel Francisco Caamaño Pre-universitary School was the site chosen to welcome 64 students who entered the advanced party of the Manuel Ascunce Detachment. The youth were selected as standard-bearers for activities that took place at various pre-university schools.
"Students at this level who chose teaching were the standard-bearers since they are the educational vanguard in Cuba," said Lanyín Aimeé Bernal, a member of the National Committe of the Federation of Middle High School Students (FEEM). There will be several other activities to welcome all of the students entering the detachment to become teachers.
 (Juventud Rebelde)
---
Related News
---