Rakatán Ballet: From a dream to a challenge
Submitted by: admin

11 / 28 / 2008
---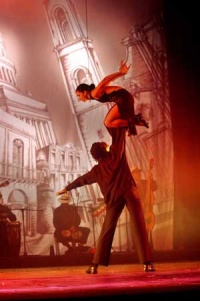 A risk that has taken a way. A whish that has become a provocation. Yes, because taking off from its original context in order to open up to the World, meant for Nilda and Rakatán the need to bet for a firm and honest walk. Given back now, a subtle way to conquer stage space.
References dating back to ancient musical and dance traditions; this has served the company to orchestrate a fine contemporary language, a repertoire that registers memory and innovation. Heritages of African, Spanish and Native cultures have been fused together with different rhythms, to the point of proposing very challenging sonorities. There are also daring ways, ways to imagine and compose the movement, the gesture, the pose and the dance.
The Rakatán Ballet, made up by dancers with a solid technical formation, has managed to place itself without showing off nor speculation, among the main Cuban groups that are betting for the chance to give back its true foundational identity to the show space. It its shows, there is a right search on the system of relationships that make out of the stage and the work of the actor, a magical site from were festivity and enjoyment come out.
Prime broadcasting from Cuban Television, gala shows, celebrations, as well as night stages in Havana, show a recurrent presence in the Rakatán Ballet.
Elegance, fine grace and undisputable quality of their artistic proposals, have given the work of the company international recognition and acceptance. Their productions have been applauded in such important plazas as London, Rome or Milan.
From its very first steps of the road to the present (We are the Rakatán Ballet, Today's Flamenco, Havana Rakatán, among others), the group has conquered important glories. Satisfactions that, among its ups and downs, oppositions, break ups and continuities; turns out to be a progress, change, absence, professional maturity.
Now, after the premier season in the Mella Theater from the capital, of the show A la medida de Rakatán, the company ratifies us its excellence. A perfect combination of the exquisite musical, choreographic and dance work in order to perform in a multiple and provoking space. Well established stars in our cultural panorama shared the site with the Rakatán dancers.
To sustain the same creational spirit that made Nilda and her team has been a key point. The work they make together with the Septeto Turquino from Santiago has been very important, in order to recondition the inheritances of our nice vernacular music to the demands of contemporary stage. And that is because, the obvious of its Cuban feeling and its universality is obvious against the craft of dance, music, theatre and spectacular wealth of the Rakatán Ballet; since they are convinced that our art has to be a bridge and not a border.
(Cubarte)
---
Related News
---