Poetry Book by Frank Padrón to Be Launched in Havana
Submitted by: admin

11 / 27 / 2008
---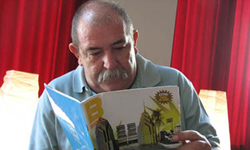 A new book by Frank Padrón –a poetry book– titled Los latidos del espejo (The beating of the mirror) published by the Ediciones Unión Publishing House, will be presented by Miguel Barnet, president of the National Association of Cuban Artists and Authors (UNEAC) at the headquarters of this institution (H and 17 St., Vedado) to celebrate the 30th anniversary of the beginning of the artistic career of the author.
The ceremony will consist in a concert with the participation of prestigious artists, such as Carlos Ruiz de la Tejera, Blanca Rosa Blanco, Dianelys Brito and members of the Rita Montaner theatre company, all of them under the artistic direction of Gerardo Fulleda León. Maestro Luis Carbonel will be a special guest.
Also invited to the ceremony are singer/song-writers Gerardo Alfonso, Manuel Argudín, Augusto Blanca, Amaury Pérez, Heidi Igualada, Amanda, Pepe Ordás, Rochy Ameneiro, and Rey Ugarte. The presentator will be Rosalía Arnáez.
The review by art critic Rufo Caballero on the back cover of the book reads: "Both in poetry and narrative, Frank is an author of a very contemporary sensitivity to tell fables. Fully convinced that poetic density is not incompatible with the notion that life is fragile and winding, and ready to face every trouble and event to come with maturity, Frank's writings are part of a very special trend in Cuban literature nowadays."
(Juventud Rebelde)
---
Related News
---