Book and documentary on Titón at Havana Film Festival
Submitted by: admin

11 / 27 / 2008
---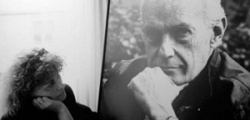 Titón died of lung cancer in the mid-90s, some time after completing his world-famous Fresa y chocolate (Strawberry and Chocolate), nominated to an Oscar, and Guantanamera, both co-directed with friend Juan Carlos Tabío, who he had to lean on to finish the two films given his frail health.
In the documentary, Gutiérrez Alea speaks at length on his movies, about what he thinks of his films, about the filming process – while the actress, who for the first time donned the role of director, shares intimate opinions about the person she spent 23 years with.
Mirtha also wrote the film and used up a whole year making it. It lasts around an hour and a half and was premiered last September at San Sebastian Movie Festival, where it met with applause from spectators, filmmakers, actors and reporters.
Various intellectuals who either met or admired the director of Memorias del subdesarrollo (Memories of Underdevelopment) were interviewed for the film, including writers Reinaldo González and late Lisandro Otero, filmmaker Enrique Pineda Barnet, movie critic José Antonio Évora, actor Reinaldo Miravalles, writer Esmundo Desnoes – whose novel by the same name was used by Titón for the script of Memories of Underdevelopment, and Sandra Levingston, director of the US-based Center for Cuban Studies.
On the other hand, the book Retracing my Steps, whose first Spanish edition is from late last year, offers a sizable portion of correspondence between the filmmaker and his friends around the world. It is an intimate book that brings out the ethical, esthetic, philosophical and ideological essence of director of Muerte de un burócrata (Death of a Bureaucrat).
This book, to be presented in Havana to intellectuals and readers alike, includes a lengthy chapter that Mirtha Ibarra wrote from the most intimate angle; a bunch of pages that help one become acquainted with the sensitive, obsessive, loving, critical human being, who lived by a strict sense of time.
The documentary and the book are two great opportunities to delve into Tomás Gutiérrez Alea as an artist and a person – a combination that is not always possible, let alone from the hand and the ideas of one of the people who best knew him, his widow, actress Mirtha Ibarra.
(www.cubanow.net)
---
Related News
---