Cuba: Disabled Women Most Excluded
Submitted by: admin

11 / 21 / 2008
---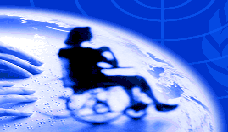 Sexuality, gender, education, family, public policies and sexual rights are among the topics being discussed in the 1st Meeting of Disabled Women, inaugurated Wednesday.
Moya, director of the Editorial House of Women in Cuba, assured that in the case of women with disabilities, discrimination reveals itself from an alleged over-protection.
The meeting is attended by 250 specialists of 12 nations and in the inaugural session Ida Hilda Escalona, president of the Organizing Committee highlighted that Cuba is an example of how to work to achieve an equitative society, without distinction of persons.
This country promotes values which prioritize the human being, asserted the also president of the Asociacion Cubana de Limitados Fisico-Motores (ACLIFIM).
The adoption of policies to allow a comprehensive attention to this vulnerable sector of society has left almost 50 years in the past, begging, precarious living and abandonment of persons, affirmed Isabel Moya.
In her master lecture delivered during the first session, the expert highlighted the creation of organizations for individuals with different disabilities like those lacking arms or legs (ACLIFIM), the deaf, mute (ANSOC) and the blind (ANCI).
Moya said that disabled women are denied their right to decide elsewhere, questioning their projects of maternity and of forming a family, limiting their access to dignified and well paid jobs, being subject to violence and media stereotypes.
(ACN)
---
Related News
---