More than 18,000 evacuees in eastern Holguín, Cuba
Submitted by: admin

11 / 20 / 2008
---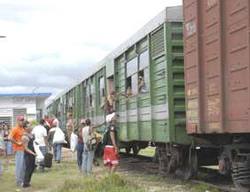 The situation seems to be most difficult in the area of Sagua de Tánamo and Frank País, in the mountainous surface of that province, where water currents are high, particularly the River Sagua, the AIN reports.
It is precisely there where close to 15,000 inhabitants of those municipalities have been evacuated, into homes of neighbors or shelters.
Mayarí municipality has 3,000 evacuees in homes of relatives and 260 in shelters made ready by the Defense Council in that territory, given the threat represented by the fast-flowing Sagua and its tributaries.
The situation is also complicated by the River Grande, close to the city of Sagua de Tánamo, bursting its banks, making the highway between the east and west of the province impassable.
Miguel Díaz-Canel, president of the Provincial Defense Council and a member of the Political Bureau of the Communist Party, and Vivian Rodríguez, chief of Civil Defense in Holguín, have toured the affected areas and confirmed that measures to protect the population and the economy have been put into action.
Continuous rainfall accompanying a stationary cold front in the eastern region of Cuba has saturated the water table. Water in reservoirs has increased to 71.7 million cubic meters in the last four days, according to Jorge Mario García, director of Hydrographic Basins at the National Water Institute.
The volume of accumulated water in Cuba's 239 reservoirs is currently at 7.722 billion cubic meters, almost 87% of the country's total capacity. Throughout the country, 103 of them are overflowing. In Granma province, 11 reservoirs are having their pressure relieved; in Santiago de Cuba, 10; and, in Holguín, 13 of its 17 systems are overflowing, the expert noted.
For now, rain is still falling in Mayarí, Frank País and Sagua de Tánamo, associated with the remains of the cold front.
(Granma International)
---
Related News
---