In Cuba: Commemoration because of the 50th Anniversary of Camagüey´s Guerilla Front
Submitted by: admin

11 / 20 / 2008
---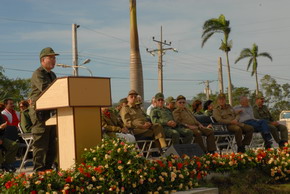 García mentioned during his speech the main characteristics of the battles fought by Columns 11 (Cándido González) and 13 (Ignacio Agramonte), as well as the role played by the people from this municipality.
He also stated that Najasa was the place where rebels of the territory set their headquarters during the first war for independence; it was the temporal residence of the Government of Cuban Republic and the spot where Major General Ignacio Agramonte y Loynaz opened workshops, warehouses, military training centers, etc. It was also the birthplace of the Himno Invasor (a Cuban war hymn), inspiration for Cuban armies of all times.
The First Secretary highlighted the role of Commander Julio Camacho Aguilera during the fights, the moral authority that carries with him and the spirit he showed to achieve the so needed unification among all revolutionary forces when Fidel Castro appointed him as the one in charge of such task in the province.
"These are not times for sorrow or grieving, these are times when only hard, organized and disciplined work would allow us to recover quickly and move on successfully with the programs designed by the Revolution", expressed the political leader.
The military ceremony and civic act were presided by Revolution Commander Guillermo García Frías and General Ramón Espinosa Martín, head of Eastern Cuba Army accompanied by military and civil guests.
In their speech, both heroes emphasized the determination to consolidate the Island's social project and demanded the return of the Cuban Five.
As part of the program, the "Casa Artola" Museum was inaugurated to honor an excellent revolutionary and collaborator of Frente Camagüey.
 The reopening of a minor league baseball field was also carried out.
Commander Julio Camacho Aguilera underlined the decisive support given by Ramón Artola, whose home sheltered many revolutionaries and hosted several meetings. He also urged the new generations to study the historic legacy of our people.
(Adelante.cu)
---
Related News
---