Legendary character of Che Guevara in Cuban music to be highlighted
Submitted by: admin

11 / 17 / 2008
---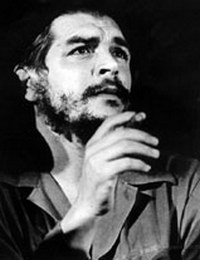 The album Cantarte, Comandante, is placed today among the most sold ones in the country in the year 2008 and compiles songs from different generations of the best Cuban creators who have been inspired by the life and work of the Heroic Guerilla Leader, murdered in Higuera, Bolivia, more than 40 years ago.
Hasta siempre, the best known song by the minstrel Carlos Puebla and probably the most epic, most universal Cuban song, leads the CD. There are also the famous poem Che Guevara by Nicolás Guillén, which was given music and sung by the group from Havana Alma Mater.
The album –constantly searched for by tourists and foreign visitors- compiles Si el poeta eres tú, by Miguel Barnet, set to music and sung by Pablo Milanés with the Grupo de Experimentación Sonora (Sound Experimentation Group) from the ICAIC and Andes lo que andes, by Amaury Pérez, made popular by Sara Gonzáles with the Manguaré group.
Fusil contra fusil, by the singer and composer Silvio Rodríguez, Su nombre es pueblo, by Eduardo Ramos, sung by Sara Gonzáles, Son los sueños todavía by Gerardo Alfonso and Por los Andes del orbe by Tania Castellanos interpreted by the diva Omara Portuondo, stand out in the CD.
There are also El hombre nuevo, by César Portillo de la luz, Canción del Guerrillero Heroico, by Daniel Viglietti sung by Elena Burke, Un nombre y Lo eterno by Carlos Puebla and América, te hablo de Ernesto, by Silvio Rodríguez.
(PL)
---
Related News
---